About Goho
The Gottesfeld-Hohler Memorial Foundation (GOHO) began in 1984 to promote research and education in OB/GYN ultrasound. The Foundation welcomes practicing physicians and sonographers, offering education seminars geared toward the everyday practice of OB/GYN ultrasound.
THE BERYL BENACERRAF FUND
The Beryl Benacerraf Fund supports the Benacerraf Visiting Ultrasound Fellowship,
established in 2022, as a tribute to Dr. Beryl Rica Benacerraf, a pioneer in the field
of obstetrical and gynecologic ultrasound and a GOHO Foundation faculty member.

Hear what attendees are saying
"The GOHO conference is very comfortable, in a beautiful setting, with amazing lecturers who present their talks in a way that holds your interest throughout the course. I learned many valuable tips that I have incorporated into my everyday practice. Love the low-key atmosphere at this meeting!"
"The weekend at the GOHO ultrasound conference was incredibly captivating and energizing. As a fellow in MFM, it gave me the chance to raise the level of discourse when I returned to my home institution after having listened to lectures from leaders in the field. The days were filled with well-organized thematic lecture series, and the evenings provided for an opportunity to mix and mingle with experts in MFM, radiology and gynecology. I still have my notes and slides readily accessible from the conference weekend and refer to them regularly."
"The conference was an inspiring and educational event. It provided an opportunity to review the basics of ultrasound, and offered insight to new and innovative approaches to ultrasound and fetal diagnosis. The conference provided the opportunity to learn from and socialize with some of the most prominent members and leaders of our field in a beautiful and relaxed environment. I returned to my fellowship eager to share what I had learned and I strongly recommend this conference to all fellows in maternal-fetal medicine, practicing physicians and ultrasound techs."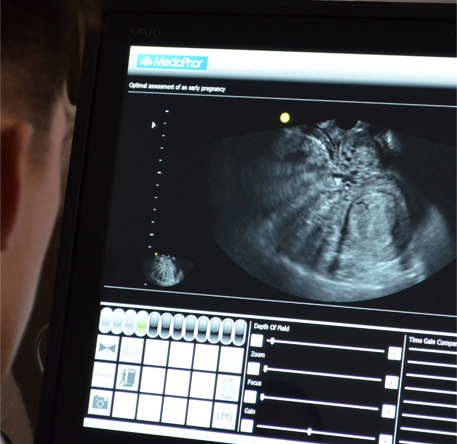 CONTACT
For more information, contact us below.